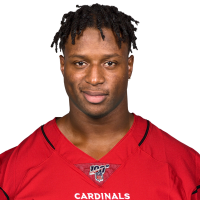 Team ARI
Pos RB
Status AActive
Owner FA
NFL 360: Black and BlueMon, Jun 22 at 6:06pm

In "NFL 360: Black and Blue," Jeffri Chadiha joins Georgia natives Kenyan Drake of the Dolphins and Dalvin Tomlinson of the Giants to tell the story of the first African American police officers in Atlanta's history - and the artistic efforts to celebrate the memory of these civil rights pioneers.

Kenyan Drake explains his decision to kneel in 2020Thu, Jun 18 at 7:39am

Arizona Cardinals RB Kenyan Drake joins "Good Morning Football" to discuss his decision to kneel in 2020, expresses regret for not kneeling previously and talks Kliff Kingsbury's offensive creativity, DeAndre Hopkins and more.

Cardinals vs. Rams highlights | Week 17Sun, Dec 29 at 5:03pm

Watch all of the highlights from the matchup between the Los Angeles Rams and the visiting Arizona Cardinals in Week 17 of the 2019 NFL regular season.